From Dwayne Wright - Certified FileMaker 10 Developer
WEB: www.dwaynewright.com
EMAIL: info@dwaynewright.com
TWITTER: dwaynewright
A READER ASKS

These are some of the FileMaker issues we need assistance with:
*Is is possible to spiff up a FileMaker database with a user friendly interface?
*Is it possible to make filters for the data, like a filter that will remove names that have commas so a FM database can be converted to .csv for a mailing house?
*Can compatibility issues be fixed? For example, some Macs at my office have FileMaker versions 7, 8, or 9 installed on them and they are viewing data that's on a server with FileMaker 9. Our tech says that many problems my office has experienced with FileMaker and our FileMaker server crashing have to do with different, incompatible versions.
-------
DWAYNE RESPONDS

You have some great questions there and I'll take a healthy swing at answering them. If I miss a point or you want more information, please do not hesitate to let me know.
USER INTERFACE
By all means, we can create a layout (or series of layouts) independent of your current ones. That way we can switch some users over to the new interface, get feedback, make tweaks and then rollout the new interface. All the while, we can keep the existing layouts as a fall back option.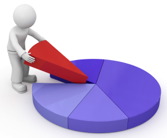 FILTERING OPTIONS
By all means, we can add in a number of filtering options. It helps if we have a consistent set of data to work from before we manipulate it but we can also build in routines for data that requires a more manual filtering approach. I've done this type of thing a lot in the past and find that type of work enjoyable.
FileMaker supports all the major data types and .csv is definitely supported for all import and export operations.
COMPATIBILITY ISSUES
Well, compatibility isn't that cut and dried in the FileMaker world. All copies of FileMaker from version 7 to version 10 are compatible. The issue lies in the new features area of each version. A new feature added in FileMaker 9 will not work with someone using FileMaker 7. You can build "tests" inside of FileMaker to know what version each user is working with and then branch the coding when necessary.
In some cases, these workarounds for users running older versions of FileMaker are quick and simple. In some cases, it isn't so simple and can be time intensive to program. In some cases, I recommend upgrading those users to the latest version of FileMaker. In some cases, upgrading to FileMaker 10 is the cheapest and quickest option! Actually, I always recommend users to update to the latest version of FileMaker but sometimes that isn't an option in these tough economic times.
Where I would recommend we start is documenting those specific reported incompatibilities. Actually, it is a good practice to always document reported problems with your FileMaker database. We can analyze these reported problems together, take a look under the hood of the files themselves and formulate a "zero incompatibilities" game plan!
=
More info about the author and FileMaker in general, contact me at info@dwaynewright.com.
© 2009 - Dwayne Wright - dwaynewright.com
The material on this document is offered AS IS. There is NO REPRESENTATION OR WARRANTY, expressed or implied, nor does any other contributor to this document. WARRANTIES OF MERCHANT ABILITY AND FITNESS FOR A PARTICULAR PURPOSE ARE EXPRESSLY DISCLAIMED. Consequential and incidental damages are expressly excluded. FileMaker Pro is the registered trademark of FileMaker Inc.
ADVERTISEMENT ==================
Help support this blog by considering a donating to its ongoing growth. For more details, please visit /donate.html