From Dwayne Wright PMP - Certified FileMaker Developer
WEB: www.dwaynewright.com
EMAIL: info@dwaynewright.com
TWITTER: dwaynewright
YOUTUBE: FileMakerThoughts
In this example, we have a control field called Lock Record and two data fields. The admin password can edit these two fields at any time.

However, if the user logs in with the no password option AND the Lock Record field is set to yes ...
it will not allow that user to modify the information in that field.
The calculation for the record level access is ...
Lock Record ≠ "Yes"
We set the field so the user cannot override the validation and to give the user the following message with validation fails.
"This record is locked and cannot be modified. "
I've included two buttons to allow you to quickly toggle between the two access accounts for testing.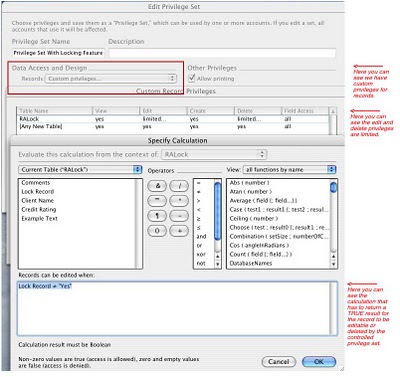 Here you can see the three privilege set dialog boxes for setting up this example.
An example file can be downloaded by clicking (here)
© 2010 - Dwayne Wright - dwaynewright.com
The material on this document is offered AS IS. There is NO REPRESENTATION OR WARRANTY, expressed or implied, nor does any other contributor to this document. WARRANTIES OF MERCHANT ABILITY AND FITNESS FOR A PARTICULAR PURPOSE ARE EXPRESSLY DISCLAIMED. Consequential and incidental damages are expressly excluded. FileMaker Pro is the registered trademark of FileMaker Inc.