From Dwayne Wright PMP
Certified FileMaker Developer
WEB: www.dwaynewright.com
EMAIL: info@dwaynewright.com
TWITTER: dwaynewright
YOUTUBE: FileMakerThoughts
Please Note: If you are viewing this page in a news feeder, the images may get munged up a bit. For the best experience, please visit the journal directly by clicking (here).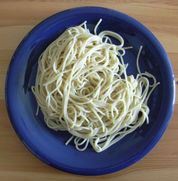 One of the common names to the organization (or lack thereof) of a relationship graph is spaghetti or spider. This is in when a method other than anchor/buoy or squid is implemented. Here is a little background for our later discussions on anchor/buoy.
FileMaker 6 and earlier versions had a very straight forward relationship setup. In fact, there was little reason to graph FileMaker relationships inside of a FileMaker file because it was simply a "when this equals that" task. You could only see the information from the current table to another table (most likely stored within another file).
BTW... I'm not suggesting FileMaker 6 databases didn't need to be organized in an ERD or external graphing system. It just didn't make sense to have the graph inside of the FileMaker file.

Then FileMaker 7 came out and our ability to have multiple tables within the same file literally blew the mind of the FileMaker community. Then everyone had to deal with a learning process in regards to the setup of relationships between these tables. To make matters better and worse, relationships can cascade from one table through any number of other tables until reaching a final destination in another table. Once again, to make matters better/worse is the fact that the relationship can now flow in both directions.

In most cases, any developer that converted a major solution from FileMaker 6 to FileMaker 7, were shocked to see the relationship graph for those files. There is no automated organization tools to represent relationship data and the overall effect can be overwhelming.

In typical FileMaker fashion, developers and users alike jumped in with both feet. In many cases, the below representation of the relationship graph was not that uncommon. This structure (or lack thereof) of a relationship graph are known by a number of names including spaghetti, spider and countless other less that complimentary terms
=
More info about the author and FileMaker in general, contact me at info@dwaynewright.com.
© 2008 - Dwayne Wright - dwaynewright.com
The material on this document is offered AS IS. There is NO REPRESENTATION OR WARRANTY, expressed or implied, nor does any other contributor to this document. WARRANTIES OF MERCHANT ABILITY AND FITNESS FOR A PARTICULAR PURPOSE ARE EXPRESSLY DISCLAIMED. Consequential and incidental damages are expressly excluded. FileMaker Pro is the registered trademark of FileMaker Inc.