From Dwayne Wright PMP, PMI-ACP, CSM
Certified FileMaker Developer
WEB: www.dwaynewright.com
EMAIL: info@dwaynewright.com
TWITTER: dwaynewright
YOUTUBE: FileMakerThoughts
In many cases, the decision of using modal vs multiple window design is based upon computer skill level of the end user and the preferences of the developer themselves. In some cases, these two are bundled together like parent and child in a three legged sack race. A three legged races is where two individuals inside legs (the right leg of the partner on the left and the left leg of the partner on the right) should be touching. Tie the partners' inside legs together so each pair of children has three legs rather than four. They race from a starting area to an ending area like a traditional race.
In this case, all developers might treat their users as being very savvy and some developers treat all users as easily confused beginners. So the inside leg of the design process is where the user and the developer meet. In my opinion, there is no one design method but many prominent developers would disagree. Creating an overly simplified user interface limits the power user, slows down their productivity and delays their ability to get powerful information in a timely manner. Creating an overly complex and feature rice user interface limits the casual user, slows down their productivity, intimidates them from interacting and can lead to data entry mistakes.
ABOUT MULTIPLE WINDOW DESIGN

FileMaker can support more than one open window to a file at a time. Like so many great features in FileMaker, you can activate the New Window feature in many ways including a menu command, a script step or a button action.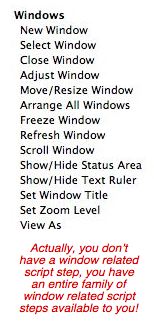 You have more control over a new window event via scripting or even the button action. This is accomplished via a specify button in the New Window setup that brings up the Window Options dialog box. On the surface, these options seem like a very reasonable set of choices including what to name the window, how tall is it, how wide is it, how far should it be from the top and how far should it be from the left. As you might have guessed from the need to control what appears on the computer screen, the measurements are evaluated in pixels. You can type in the options or you can use a calculated value. Using the calculated value allows you to leverage a bevy of Get functions that will tell you about the users computer screen, the other windows on the screen and more. When you think about things like script variables, custom functions and plug-ins, your windowing options can become very robust indeed.
Here you can see the Specify Window Options dialog box.
Conversely, when you use the New Window command from under the Window menu, you have no control over where the new window will appear on the screen, its size or the title of the window. No matter how you create the new window, it is a quick click and drag to move or resize it.
MULTIPLE WINDOWS CAN EMPOWER THE USER
Back in the day I was a "what can I do for you today" guy at a local ComputerCraft in Austin, Texas. I had a customer that was tracking stock activity on multiple monitors via the "wicked fast" Macintosh IIFX that I had sold him. Each monitor had multiple windows of various sizes tracking activity and allowing him to make quick buying decisions. This was a good five years before internet stock trading came into being and he was not a computer geek. He just was a very smart and motivated guy that knew what he wanted and needed from his business tool.
Having multiple FileMaker windows open at one time can allow you to view multiple layouts, multiple views of a layout and even multiple found sets of the same layout. You can have information windows that do not allow for editing and windows open that only allow for editing. You can have a window open that simply summarizes data for the solution and/or a window open that only have navigational / operational control buttons. You can write scripts that organize the windows to your particular needs or have memorized states of organization that fire up at the simple execution of a single script. The possibilities are practically endless.
However, multiple windows can be intimidating to the casual user and you can encounter a record locking situation that can bite you even in single user mode.
GENERAL INFO ABOUT MODAL DIALOGS
Modal Dialog Windows is a term that has become more important as FileMaker developer embrace the multiple window capabilities given to them. It is not uncommon to have a FileMaker layout that looks like a window dialog box. This is due in part in the lack of robust options from the Show Custom Dialog script step and for compatibility with FileMaker Instant Web Publishing.
FYI ... The Show Custom Dialog step allows the developer to script a message dialog box to come up on independent of the FileMaker screen and has many features such as the ability to show a customized title and message, the ability to add data into three possible fields and the ability to include three buttons that branch a script accordingly. Other Show Custom Dialog features include the ability to use literal text or a calculation to show the dialog box title, the dialog box main message and the labels for the input fields.
A FileMaker implementation of a modal dialog will bring up in a new foreground window and require interaction with that window before any other FileMaker task can take place. As you might have guessed, this amount of control requires ScriptMaker but that shouldn't concern the non scripting savvy developer. There are many documented techniques that allow modal dialog implementations a snap. The two big tasks are opening the dialog box in the correct size and pausing the script until appropriate interaction from the user.

Within my InBizness product, I tend to use the same script for closing a dialog window and it uses two script parameters of submit or close. Now I tend to stay away from the modal requirement of requiring interaction before closing the window. This is because I'm a bit multiple window guy and have techniques and mindsets in play to help support them.
=
More info about the author and FileMaker in general, contact me at info@dwaynewright.com.
© 2009 - Dwayne Wright - dwaynewright.com
The material on this document is offered AS IS. There is NO REPRESENTATION OR WARRANTY, expressed or implied, nor does any other contributor to this document. WARRANTIES OF MERCHANT ABILITY AND FITNESS FOR A PARTICULAR PURPOSE ARE EXPRESSLY DISCLAIMED. Consequential and incidental damages are expressly excluded. FileMaker Pro is the registered trademark of FileMaker Inc.