From Dwayne Wright PMP, PMI-ACP, CSM
Certified FileMaker Developer
WEB: www.dwaynewright.com
EMAIL: info@dwaynewright.com
TWITTER: dwaynewright
YOUTUBE: FileMakerThoughts
Data tunneling is a term often referred to when a FileMaker table pulls data from another table, through a relationship that goes through one or more other tables. A join table is a classic example of data tunneling but there are tunnels that do not include a join table.
(click picture to enlarge)
Here you can see four table occurrences in a row, this is a good example of a drilling possibility. From the far left table occurrence, I can see all the clients that have purchased the product (from the far right table occurrence). Thing is the primary key data doesn't exist in the other table. So you cannot find an inventory field in the client table ... or ... a client field in the inventory table. The relationship match for the portals flows through the invoice and invoice line item tables.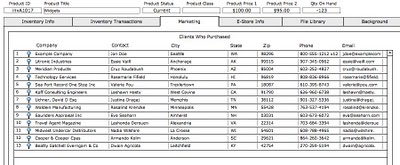 (click picture to enlarge) (by the way, this is purely example data)
From here, I can see the names of the customers that have purchased a product and you notice there are no duplicates (although many of these clients have purchased this product many times).
=
More info about the author and FileMaker in general, contact me at info@dwaynewright.com.
© 2008 - Dwayne Wright - dwaynewright.com
The material on this document is offered AS IS. There is NO REPRESENTATION OR WARRANTY, expressed or implied, nor does any other contributor to this document. WARRANTIES OF MERCHANT ABILITY AND FITNESS FOR A PARTICULAR PURPOSE ARE EXPRESSLY DISCLAIMED. Consequential and incidental damages are expressly excluded. FileMaker Pro is the registered trademark of FileMaker Inc.